Helena, Montana (nights 1 and 2)

Alistair and I landed in Helena on Thursday night around 9pm. Our bags were out by the time we walked the 100 feet to the baggage carousel, and Jordan was waiting with the van right outside the door. There are major perks to flying into a small airport, and I'm so glad Alistair and I opted out of the drive through Wyoming. We had a great flight, and everything started off smoothly. …much more so than I imagine it would have if we all tried to truck on through a couple long drives across Wyoming.
It was about a 30 minute drive to Black Sandy State Park, where we parked for the night and set up. Ali was still going strong at 11pm, settling into the van, and playing with his new recycling truck that was waiting for him upon arrival, courtesy of Jordan's mom.
After the first night, we realized that camping in the spring is much kinder on the spirit than winter camping – even in the plush Sprinter. When we camped in January, with minimal heat, outside of Wolf Creek, it wasn't exactly cozy. Now, with heat that kicks on if needed, and gentler overnight lows, we all could sleep soundly.
Friday we went into Helena for a quick lunch, and were surprised to find the entire town out preparing for their biggest parade of the year. All kids were off from school, many adults were off from work, and the streets were lined in eager anticipation of the floats. We were confused. What kind of parade happens on a Friday? It wasn't a holiday and there were no other signs of a town celebration.
We figured we would have a quick lunch, and then go for a hike, but we ended up being lured by the spectacle of the parade, and sidled up next to some locals who explained it to us: it was Vigilante Day! And while I couldn't get a solid explanation of what Vigilante Day is, ("something to do with mining") the parade rules were readily outlined. All the floats were made by high schoolers. They spent all year working on a research report about an event in Montana state history, and then they had just 24 hours to make a parade float commemorating the event. They got off from school the day before the parade to assemble the float, working in groups of 2-8 kids. "Historic events" ranged from railroad disasters to football games (?) and very few of the floats seemed to actually have been made in 24 hours — there was some serious, dare I say parental-aided, craftsmanship that went on.
We stood in the same place (an amazing feat for an almost-3-year-old) for over an hour watching the floats go by. For a couple of people who went to high school very far from Montana, it seemed crazy. Not only were the floats — that all depicted reenactments of the events while moving — dangerous as there were no safety bars to keep the kids on the floats, but they were all towed by giant pick-up trucks, and a significant percentage were actually on the flatbed of lowboys. In high school, I didn't know anyone who had a duallie, let alone a lowboy. (All terms I've picked up via reading truck books to Ali.) It was so un-east-coast, I marveled that it could still be the US, even though at the same time it seemed so old-fashioned, quintessential American.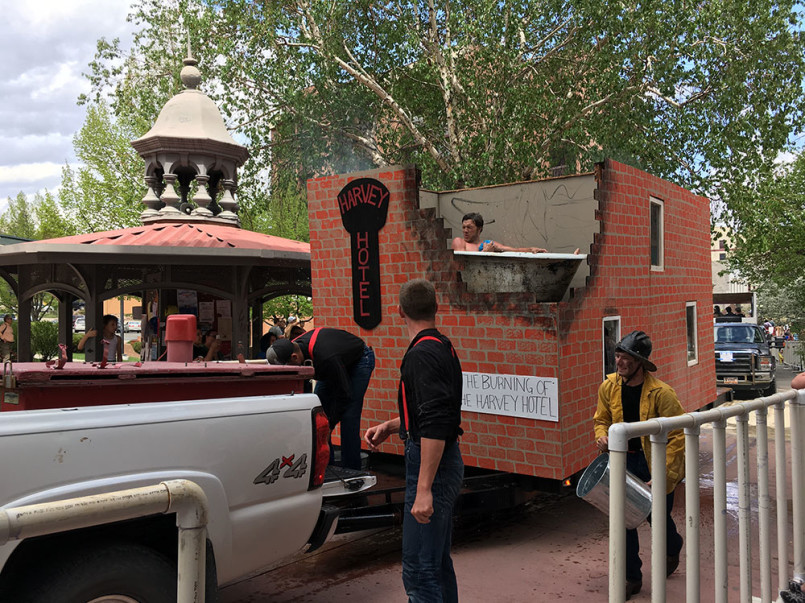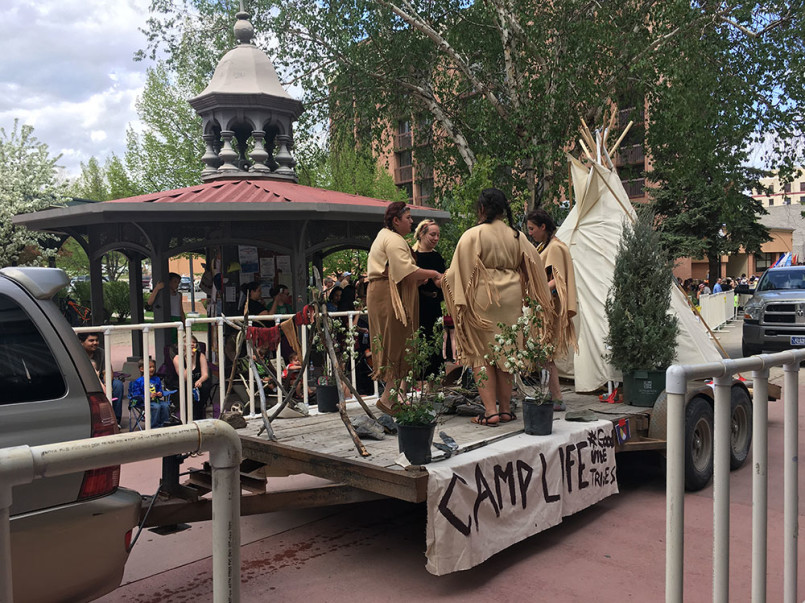 The following morning, Jordan ran (and won) a 30k trail race, the Don't Fence Me In 30k, a popular event that draws people from all over the northern Rockies, and supports local public lands. Alistair and I had a good old time hanging at a nearby bakery, exploring a historic bit of town, playing on a playground, and chilling in the van. After a quick bite of pizza, we were on the road to Coeur d'Alene.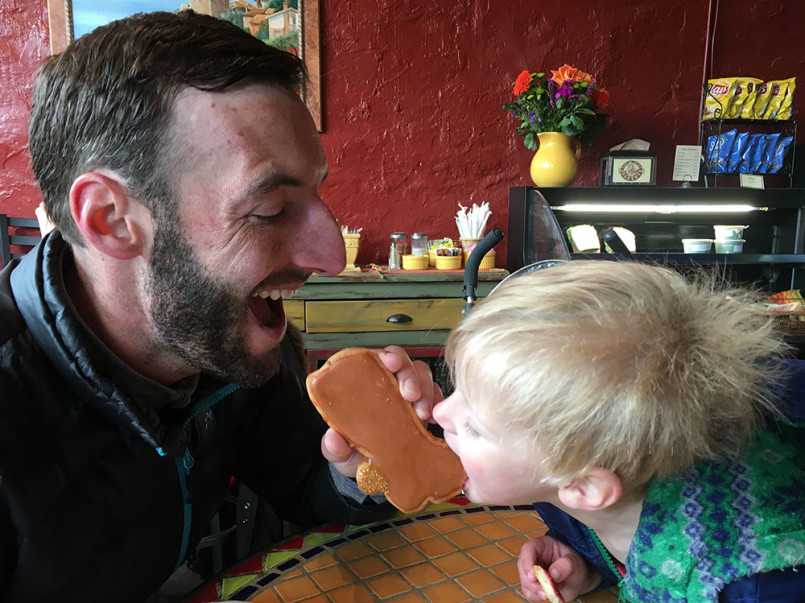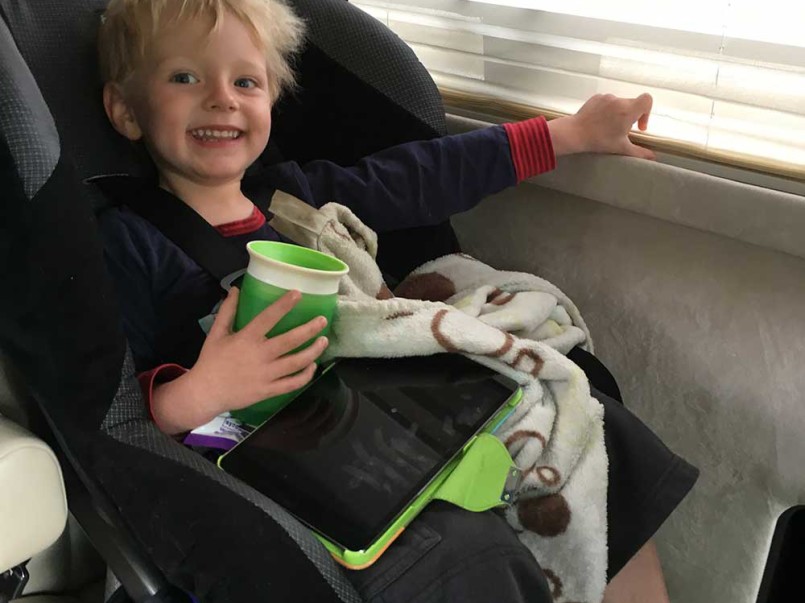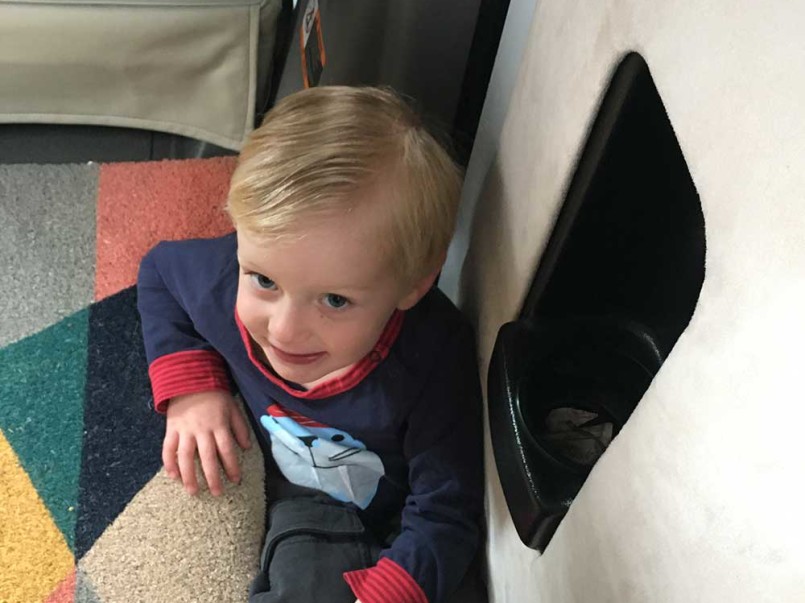 Coeur d'Alene, Idaho (nights 3 and 4)
Our time in Coeur d'Alene was a bit of an adventure van cheat: we stayed with friends in their house along the river. We ate at restaurants and their house, had several hot showers where we didn't need to ration water, etc. We enjoyed our time with our friends, plus were finally able to see friends who used to live in Golden but moved to CdA years ago. Between us we have had 3 kids since they moved, and they had one to start with, so it was a lot of fun to get the kids all together.
I loved Coeur d'Alene. I know most people only know of Napoleon Dynamite's Idaho, but CdA is different — it's a nice town that's developed, and the lake and surrounding forests are beautiful. Coming from the dry climate of Colorado, the slightly wet climate felt amazing (though I've been told it grows old). We saw a lot of rain while we were there, but during a sunny break I was able to hike to the top of Tubbs Hill while Alistair played with Jordan on a playground near by. Even though it's in town, the hill has plenty of trails with big old trees, gnarled roots, and more greenery than my Colorado eyes have seen in a long time. It was only an hour, but it felt good.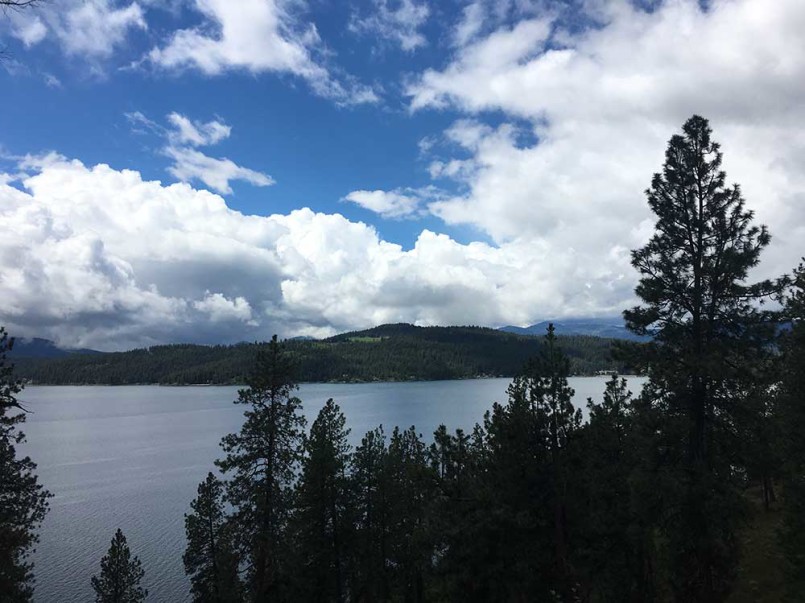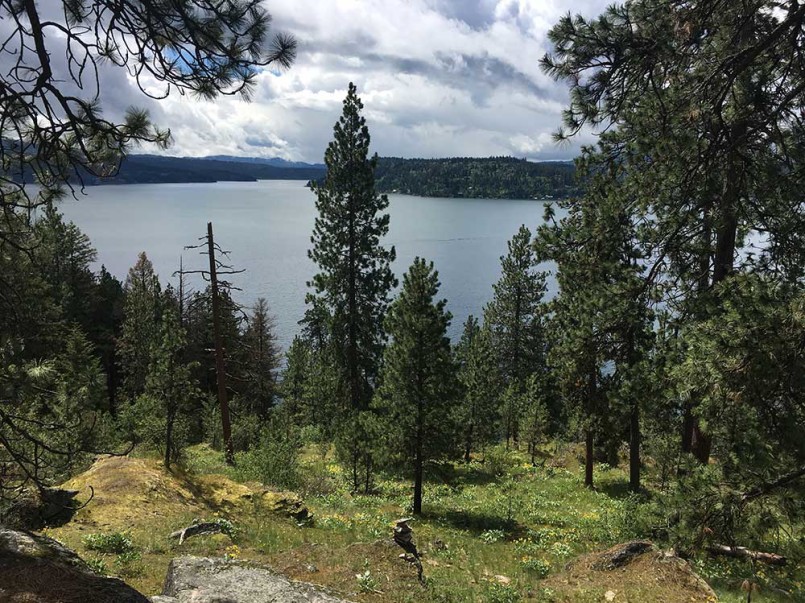 Before we left town on Monday morning, we stopped at the Kroc Center for a quick swim. The Kroc Center is the most elaborate town rec center I've ever seen, and is one of 26 in the country that was built as a philanthropic effort from an endowment left by the wife of McDonald's founder. Though, honestly, I think Golden's is just as nice, admission is significantly less, and  it's run on a much slimmer budget. And who really needs a snack bar at a gym anyway? (Though I guess considering who it was the brainchild of, I guess having a snack bar makes sense.)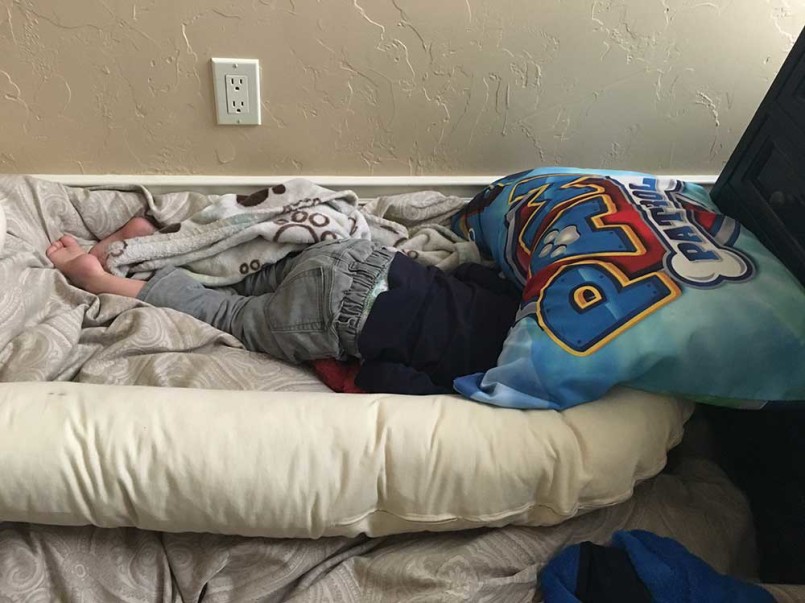 Following our swim we rolled out of town, into Washington, skirting Spokane and heading north on a rural highway toward Canada.