We visited Iceland in October 2015, when Alistair was 15 months old, for our friends' wedding. I started this series of posts when we returned home, but due to work, our busy season, parenthood, and life, I'm finally getting around to posting them a year and a half later. I still frequently look back on this trip with very fond memories, and habitually thank our friends for getting married there – it was the perfect excuse to finally see a little piece of Scandinavia.
---
If I had to summarize Iceland in 3 words, they would be: waterfalls, ice, and…shoot –  I can't do it in 3 words. Iceland was incredible. I knew it would be a neat experience, but I didn't expect to like it so much. So, ATG fans, get ready for an onslaught of Iceland and beyond:
I. – The Journey (this post)
II. – Reykjavik & Budir (and the most amazing wedding)
III. – Points Eastward – Vik, Glacial Lagoon, etc.
IV. – England
---
As the trip approached I started to get worried about Ali and the time change and the red eye flight to Reykjavik. It's hard enough for me to deal with a red eye and jet lag on my own, but with Ali? Oy. We had done it before, and even though we managed it fine and it was hard but certainly not terrible, I started to remember it being way worse than it was. Eventually, my usual attitude settled in: no matter how bad it is, we'll find a way to handle it and things will eventually be fine.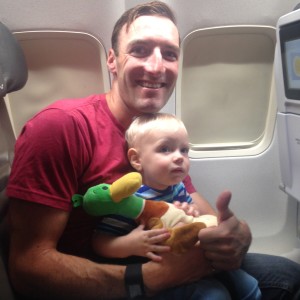 Boarding the flight in Denver, we were overcome with optimism when Alistair landed his own seat on the plane (really the only empty seat on the flight happened to be in our row). We were thrilled with our good fortune and figured it was smooth sailing flying ahead.  I won't go into details, but it was anything but smooth. None of us slept. One of us wailed for 60-75% of the flight. And I swore this would be our last trip ever. Traveling is just too much! AGH!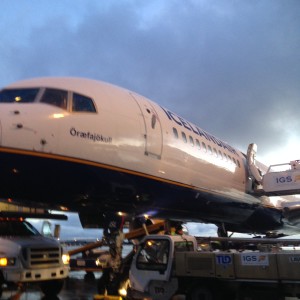 Then we touched down in the rain and cold and fog. All the negative thoughts evaporated as my sense of adventure took hold. We were in Iceland! The flight went about as bad as I ever could have imagined, but we survived. I prepared for an onslaught of rude comments from other passengers as we climbed down the steps onto the tarmac, but instead only received encouragement and kudos. I couldn't believe it! Things were looking up.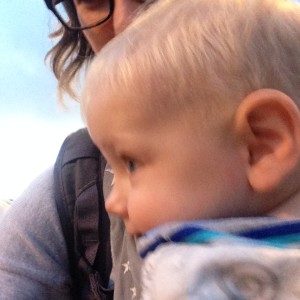 We made our way through the small airport, out into the dreary drizzle of brisk Icelandic rain, and to our rental car, ready for our little adventure. Bad flight? What bad flight?
In hindsight, I still really don't know why Alistair had such a hard time on that flight. We haven't experienced a flight like that since, though we certainly could again in the future. We can blame timing, or that he took his first legit steps about an hour before we boarded, or that I dressed him in comfy clothes when I swear by dressing him nicely for flights (under the premise/superstition of look good, feel good, behave good (well), or that he weaned a few weeks prior to the trip…but you know what? Sometimes things are just dumb luck. That flight was just dumb luck. I'm glad we were able to move onward, and upward, from it.
Up next: